Mixing is a process of reducing component non-uniformity, and the purpose of the powder mixing operation is to mix two or more kinds into a homogeneous mixture. In addition, the object mixing operation also includes a process of adding a small amount of liquid and uniform mixing of the powder.

The basic principle of powder mixing

According to the state of the mixed motion process and the mechanism of the mixing operation, there are three basic types of motion:

(1) The convective mixed powder particles are relatively moved up and down and left and right;

(2) diffusion mixing, the powder particles diffuse to the newly emerging powder surface;

(3) Shear mixing, the powder forms a slip surface.

However, the three mixing mechanisms of convection, shearing and diffusion occurring during the actual mixing process are unlikely to function independently in the respective regions, but occur simultaneously with the mixing, and the mixing characteristics can be represented by the curve (Fig. 1). It should be pointed out that a certain type of machine is always based on the use of a certain mechanism.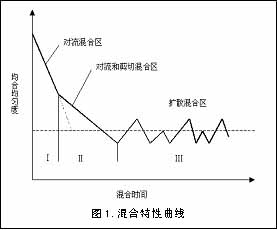 Although the mixing of powders has various forms of motion, in the mixing equipment commonly used in the pharmaceutical industry, convection mixing is dominant, and the movement of powder particles from one spatial position to another, or two or more components Movement occurs in the space occupied by each other in order to achieve uniform distribution of the components.

In addition, the powder mixing is different from the liquid, and its characteristic is generally that the powder components are rapidly mixed at the beginning, and after the optimal mixing state, the segregation (or anti-mixing) occurs in the opposite direction. . At this point, mixing and segregation (one positive and one negative) will occur simultaneously, and the two processes can be considered to be balanced. However, under normal circumstances, the initial optimum mixing state is not achieved, so that the mixing uniformity can be improved without arbitrarily extending the time for a certain mixing model and mixture.